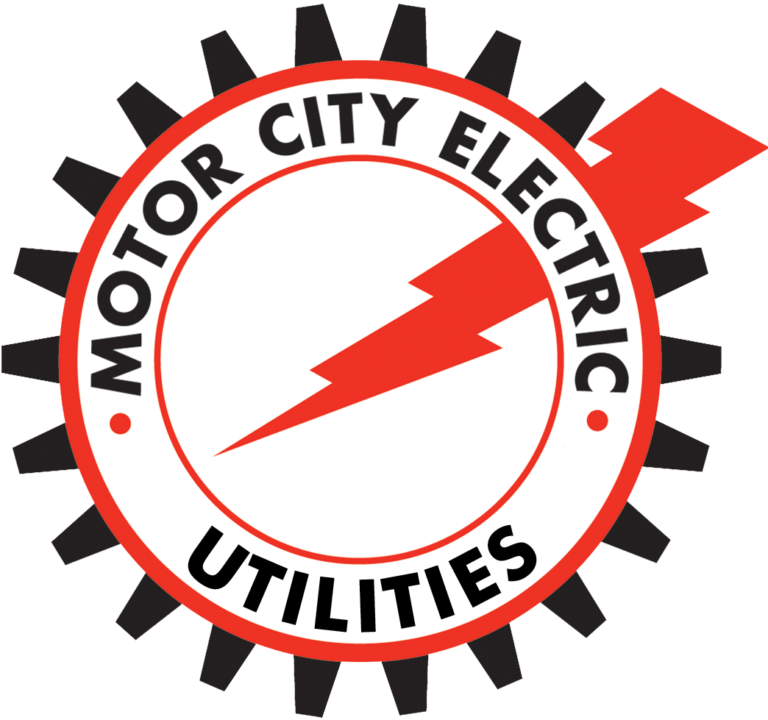 Motor City Electric Utilities has been performing utility electrical work for an impressive list of clients for more than 30 years. Since that time we have continued to grow as our reputation for safe and professional utility electrical services flourished. From underground installations, overhead line, and other high voltage work to substations, switch houses, and transmission and distribution lines, we are a highly experienced, professional contracting company.
Customers
Major utility companies and general contractors that utilize MCEU include:
DTE Energy
ITC Transmission
Consumers Energy
Michigan Department of Transportation
Florida Power and Light
NextEra Energy Resources
Public Lighting Authority
Exelon
Pattern Energy Group
Brookfield Renewable Energy
Keys Energy
Barton Malow
Bedrock Management
Walsh Construction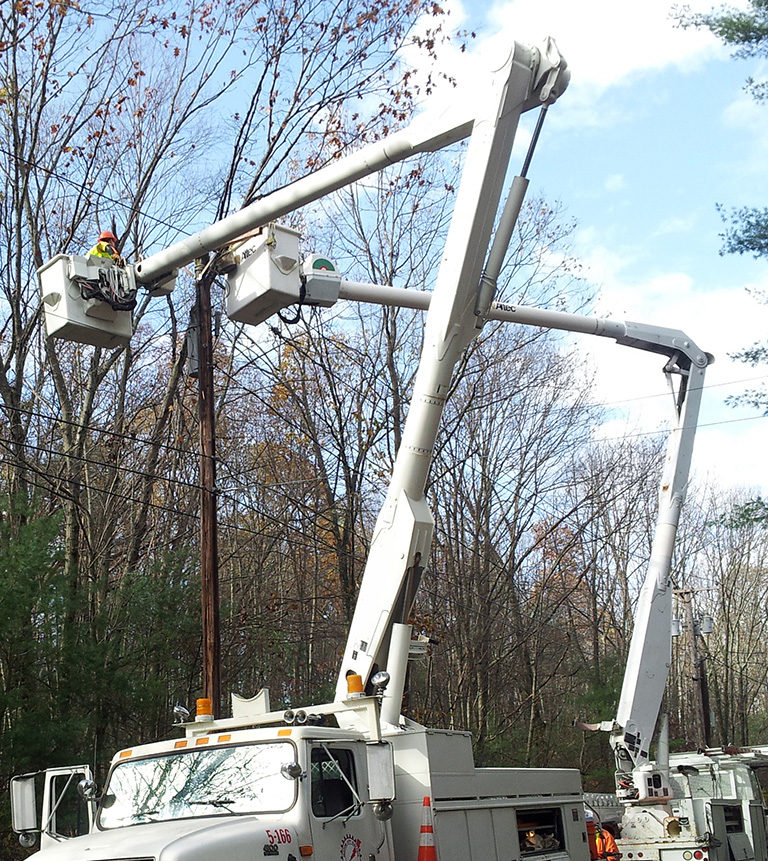 Service Areas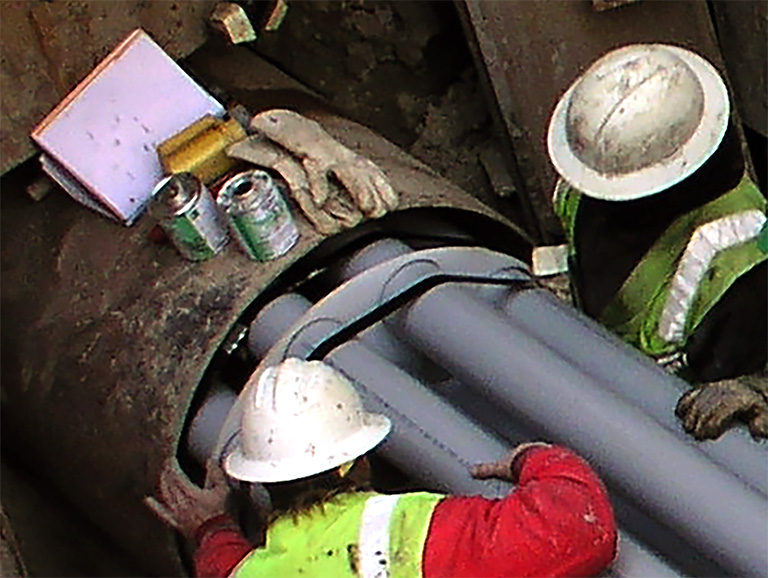 Underground Utilities
Our underground capabilities include cable duct banks, foundations, manholes, cable installation, cable termination/splicing of synthetic cable, cable termination/splicing of lead cable, cable termination/splicing of fiber, directional boring, and trenching.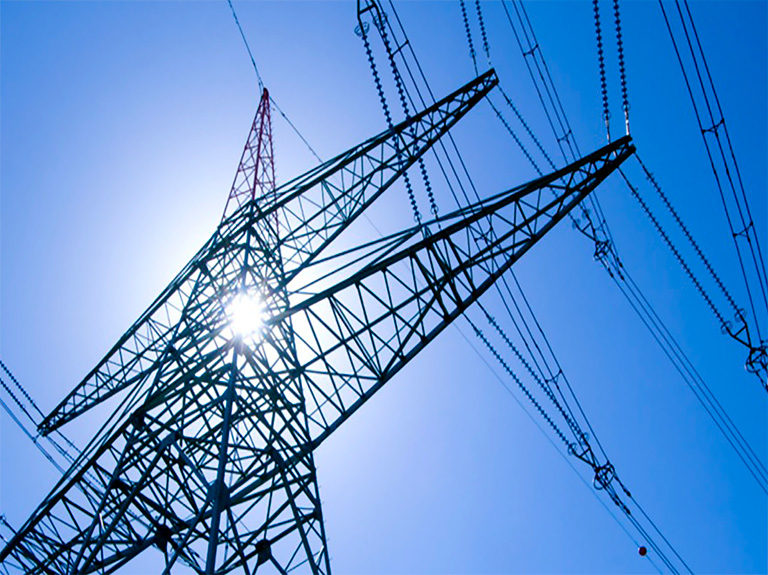 Overhead Utilities – Transmission & Distribution
Our overhead line work includes installation, maintenance, repairs, and replacement of poles, lines, lights, and traffic signals. We are at the top of the call list when storms, hurricanes, and other acts of nature bring down lines and poles.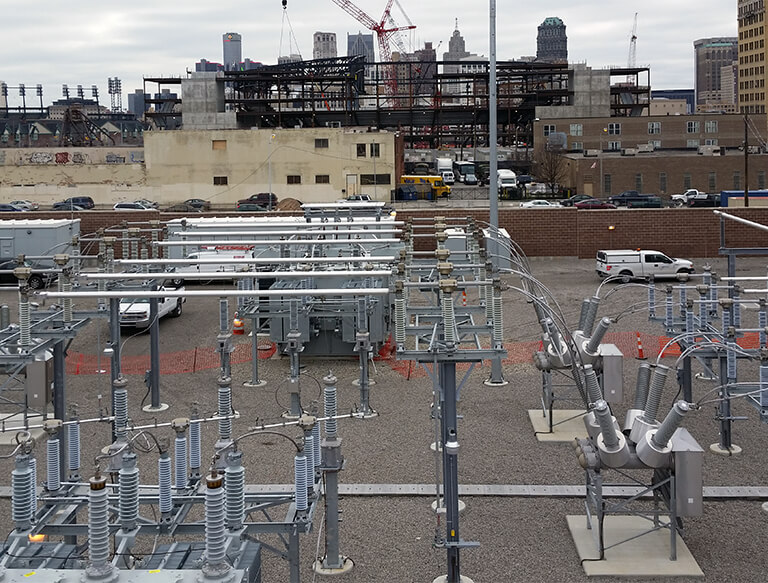 Substations
Motor City Electric Utilities Co. has completed numerous substation construction projects for utility, government, and industrial customers. These include transmission, distribution, collector, switching, and conversion type substations as well as skid-mounted subs. We are highly experienced with the installation of power transformers, power distribution centers (PDCs), capacitor banks, reactors, voltage breakers, and voltage disconnect switches.
Street and Freeway Lighting
Our knowledge and experience with overhead and underground utilities makes us well suited for freeway and street lighting projects. We recently completed work for the Public Lighting Authority on the City of Detroit's relighting project where more than 65,000 obsolete and/or nonfunctioning high pressure sodium (HPS) and mercury vapor lights on neighborhood streets and city thoroughfares were replaced with brighter, more energy efficient LED lights.
We are presently working on a long-term project for Freeway Lighting Partners and the Michigan Department of Transportation to replace the existing HPS lights with 15,000 LED fixtures and then maintain them throughout Wayne, Macomb, and Oakland counties.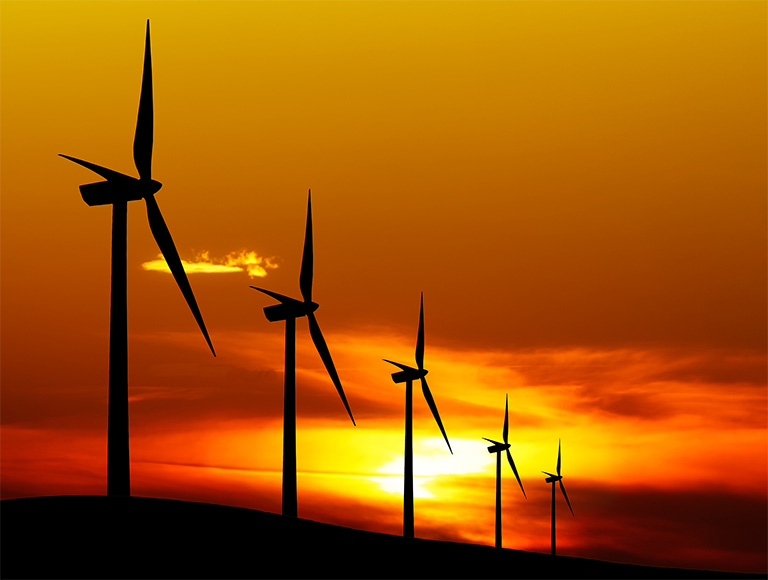 Renewable Energy – Wind & Solar
At MCEU, we care about the future of renewable resources to supplement fossil fuels. Over the past decade, we have performed the electrical work for nearly a dozen wind farms and several photovoltaic solar panel array installations.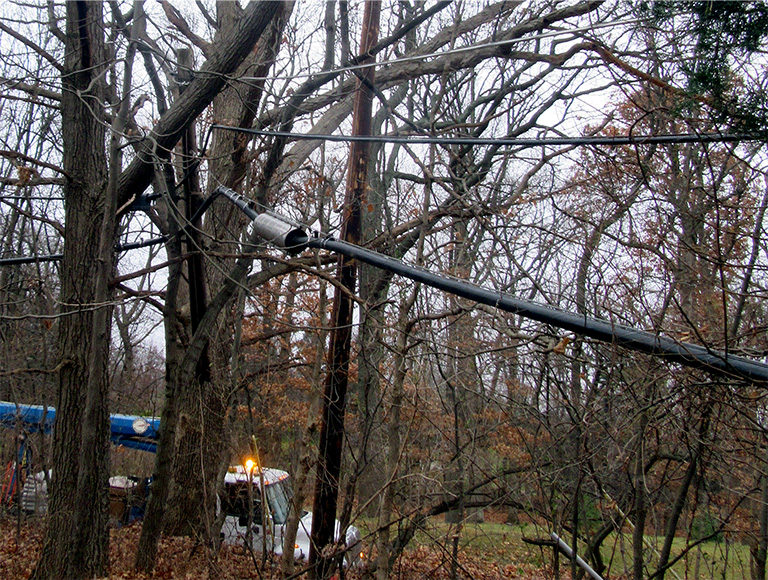 Storm Repairs & Service Restoration
Hurricanes, floods, windstorms, thunder, lightning, and other acts of nature can take a serious toll on our infrastructure. MCEU's storm team is ready 24/7/365 to repair downed power lines, upend downed utility poles, restore electrical service to residents and businesses, and essentially help get the electrical things back to normal after one of these events. We are proud to have sent work crews in response to damage from Hurricanes Sandy, Ike, Gustav, Wilma, Katrina, and Charley, as well as major storms in Florida, Illinois, Michigan, and Ohio.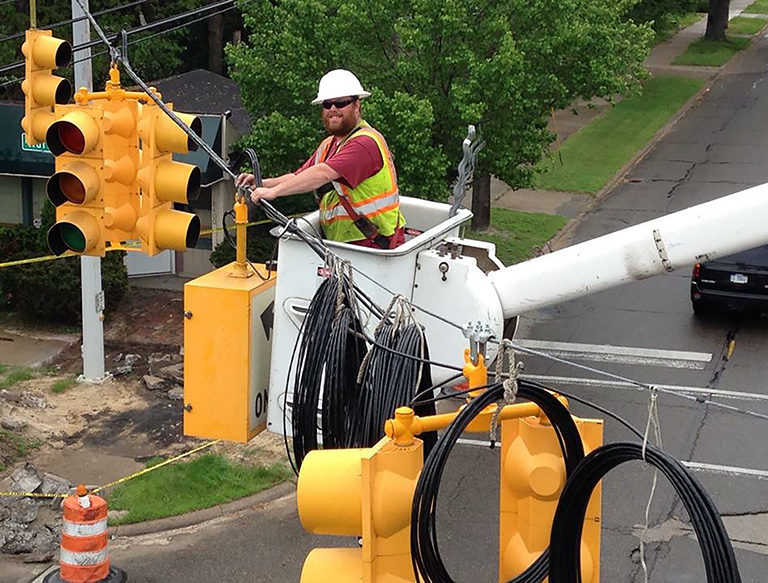 Traffic Signals
Weather, time, and traffic accidents can interfere with the smooth operation of traffic signals. MCEU works with the City of Detroit to maintain, repair, and install traffic signals throughout the city 24/7/365.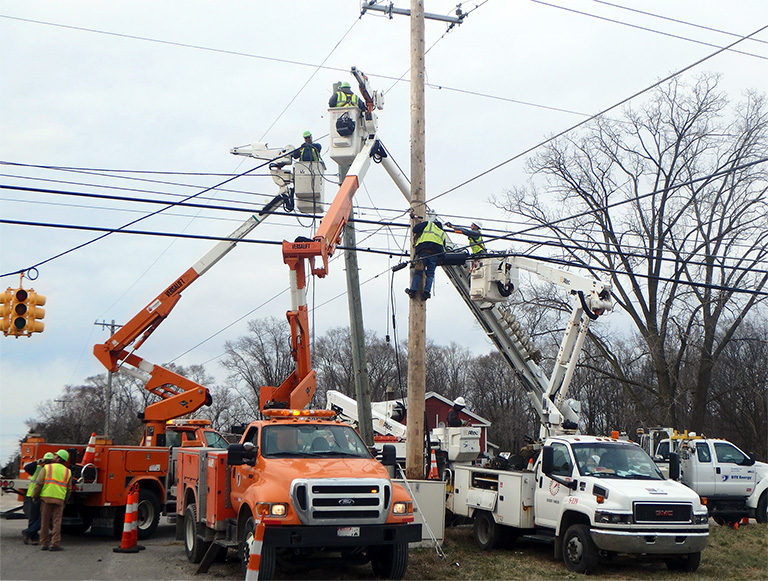 Joint Use
Joint Use refers to the practice of multiple utility companies jointly using the same set of poles since there are aesthetic and safety concerns over adding more poles. DTE Energy selected MCEU as its service provider for Joint Use maintenance, new business overhead construction, disconnects and removals, restorations, and trouble/trouble follow up. This includes both communication and electrical work. The electrical lines are the ones located higher up on the poles while those for cable and telephone are lower.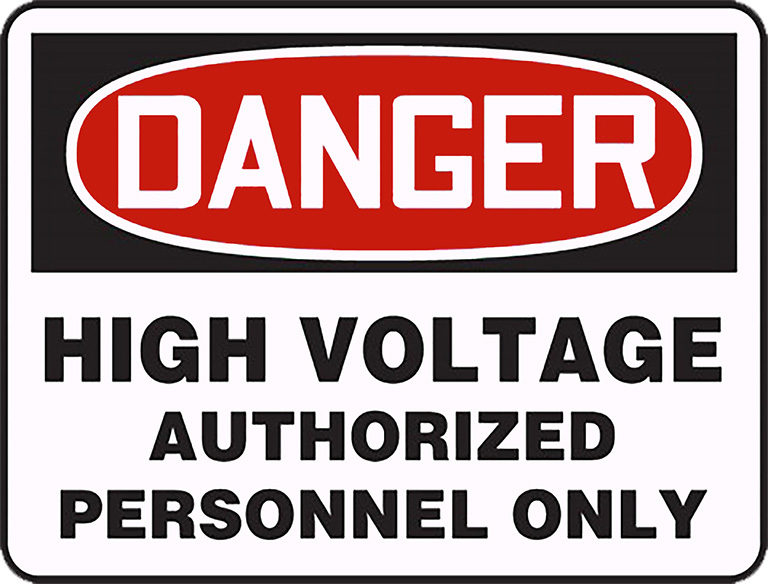 Safety and Training
MCE recognizes the risks with all electrical work and especially high voltage. Our entire organization has made a commitment to safety. MCE provides in house safety training for all employees. All are required to complete OSHA 10 or OSHA 30 training as well as first aid/CPR training. In addition to specific training in the use of heavy equipment, MCEU's employees receive comprehensive training on confined space entry, chemical and gas awareness, emergency response, and other important aspects of utility jobs. A number of our employees have received highly specialized training and been certified in terminating and splicing synthetic, lead, and fiber cabling as well as directional boring machine operation.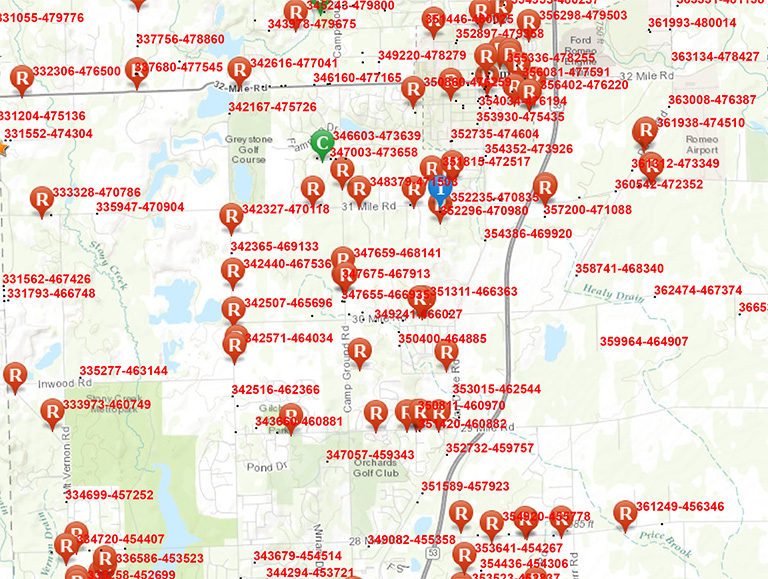 Value Added Services
MCEU has utilized Esri ArcGIS software on projects for many years. The software is ideal for layout and as-built documentation relating to collector lines and easements. MCEU is currently using Esri for design, layout, and record drawing documentation. MCEU has experienced in-house engineers capable of performing detailed designs or performing other tasks related to construction support with Esri. This experience spans multiple platforms as MCEU utilizes the software with devices such as tablets and cell phones, and integrated with software including Excel and AutoCAD. In addition, MCEU owns a state-of-the-art Trimble unit compatible with Esri for GPS location.