With an influx of common renewable energy sources such as wind and solar power becoming increasingly used. Motor City Electric Co. (MCE), Motor City Electric Utilities (MCEU), and Mid-South Contractors have worked on nine wind farms in both Michigan and Ontario, Canada.
Industrial wind turbines are big – a lot bigger than ones you might see in a schoolyard or behind someone's house. The widely used GE 1.5-megawatt model, for example, consists of 116-ft. blades, atop a 212-ft. tower for a total height of 328-ft. Putting that in perspective, an installed wind turbine is roughly as tall as a 33‑story skyscraper. That's nearly the same height as popular Detroit landmarks like the Westin Book Cadillac (349-ft.), 1001 Woodward (338-ft.), or Broderick Tower (369-ft.) Now imagine standing atop, or hanging off the side of one of those buildings. These heights are an example of what our workers may experience during construction at wind farm projects.
Wind Turbine Rescue Training
At Apple Blossom Wind Farm, our most recent wind farm project, located in the town of Pigeon in Michigan's Thumb Area. MCEU Safety Manager brought in professional turbine rescue trainer Greg Arbizo from D2000 Safety (www.d2000safety.com).
Greg Arbizo gave a two-day Turbine Rescue Training presentation. A former US Marine, Greg Arbizo is a FEMA/USAR trainer who is qualified to teach various technical rescue topics. Most of these include confined space, structural collapse, tower, and trench training. Those skills alongside an EMT certification, allow Greg to provide extensive experience with hazardous materials and firefighting.
August 15-16, 2017, a group of Motor City Electric Co., employees learned wind turbine rescue on the actual Vestas turbines installed at Apple Blossom Wind Farm. These turbines are even taller than GE models at 395 ft. from ground to blade tip.
Conducting Wind Turbine Rescues
Turbine rescues can be necessitated by illness, injury, or even fire. While you don't normally see it, the ladder inside of each turbine is a pure vertical ascent and descent of approximately 300 ft. When the victim and the rescuer are both inside of the tower, the rescue is termed inside/inside. When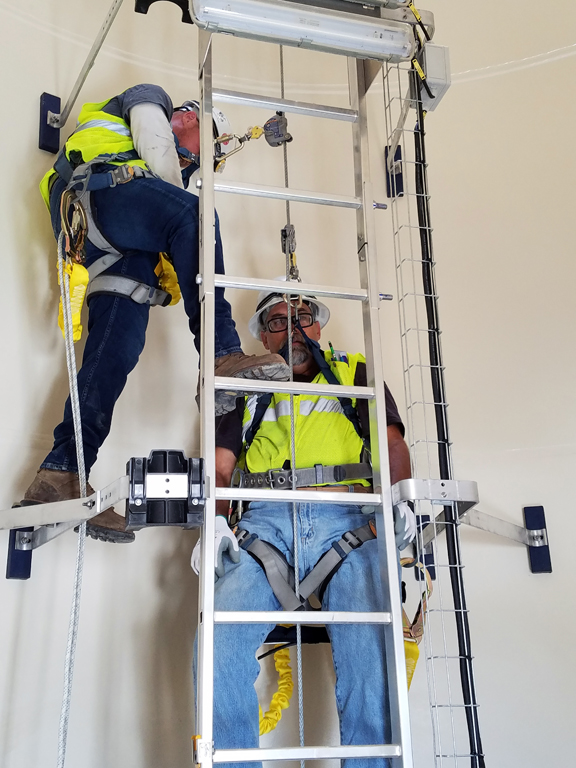 one is inside and the other outside, it's inside/outside. And, when the worker is on the outside of the turbine – typically on the nacelle* opposite the blades, and needs to be rescued with a special piece of equipment called a Rollgliss Rescue and Descent Device, it's an outside/outside rescue.
A Rollgliss kit consists of a static Kernmantle rope** lifeline, rescue wheel, anchor sling, bidirectional hub, steel snap hooks, and carabiners. It provides a state-of-the-art fully automatic controlled descent and its bidirectional design enables multiple rescues. The Rollgliss allows for assisted rescue, pick-off rescue, and custom rescue.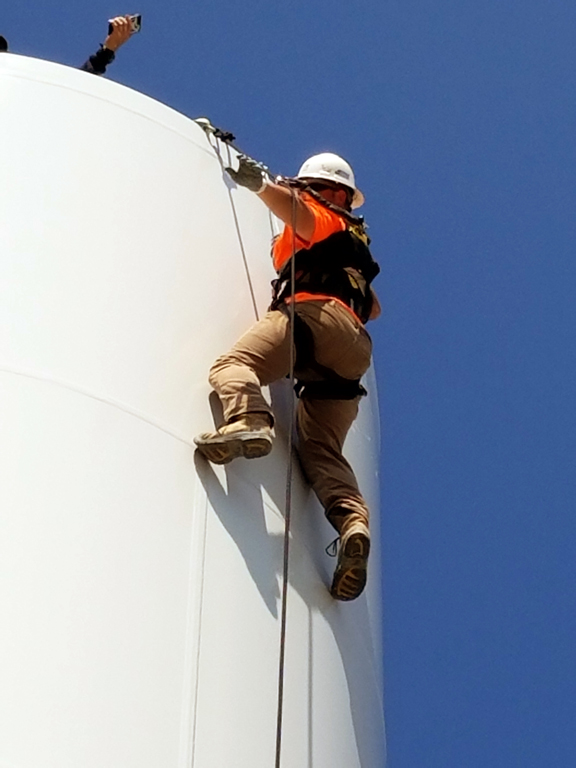 In an assisted rescue, the Rollgliss is secured to an anchor point. The rescuer gets into position above the victim and attaches the snap hook to victim. The victim is then raised so that their fall arrest gear can be unhooked and then the victim is safely lowered to the ground.
A pick-off rescue is utilized when the victim is out of reach. The Rollgliss is secured to an anchor point and used to lower a second rescuer to the victim. The victim is then attached to the rescuer and raised so that the fall arrest gear can be unhooked. The rescuer and victim are then both lowered to safety.
The Rollgliss can also be used for custom rescues, like an angled descent. The device is secured to an anchor point on/near the ground and the rope is run up a pulley above the victim. The victim is raised so that the fall arrest gear can be unhooked before he/she is lowered to the ground, away from the structure.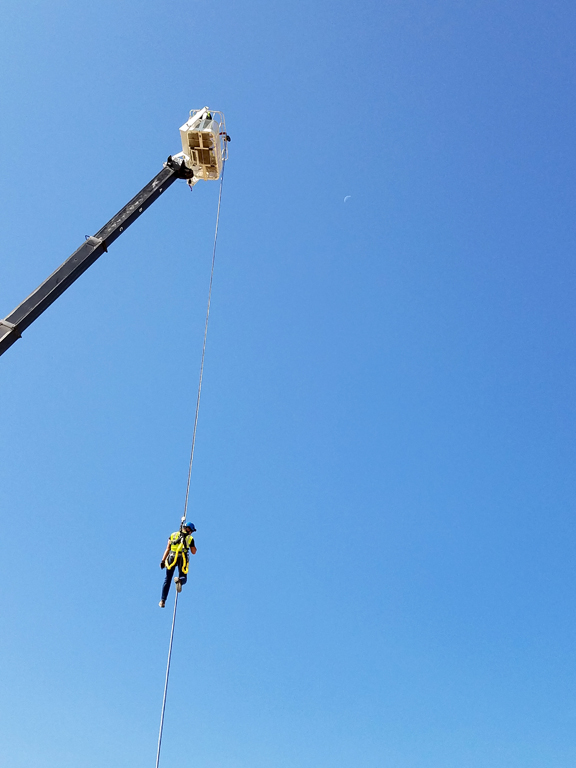 Wind Turbine Rescue Descent Simulation
During the training at Apple Blossom, a 100-ft. crane with a pulley system and a man-basket was employed to simulate the use of a Rollgliss for a controlled self-rescue descent from a tower.
Mitigating Wind Turbine Risks
While falls from the heights and shocks from the high voltage projects are major safety concerns when working on wind farms, we are fortunate in never having a serious fall or electrocution on a job site. The main injuries tend to be cuts, sprains, and muscle strains, which are relatively minor in comparison. This is the result of the training and supervision provided by our Safety Team as well as the attentiveness of our employees who truly exemplify the Motor City Electric Co., safety motto: "Professionals Putting Safety First."
* A nacelle is the top cover, housing all of the generating components in a wind turbine, including the generator, gearbox, drive train, and brake assembly.
** A kernmantle rope is constructed with its interior core protected by a woven exterior sheath designed to optimize strength, durability, and flexibility.