MCE Attending The Fourth Annual Sachse Construction Academy 2019:
The Sachse Construction Academy returned to Eastern Market on Wednesday, October 23, 2019. This time hosting its fourth annual exhibition determined to promote the importance of education within skilled trades. Once again, Motor City Electric Co. participated in the afternoon event. The event hosted over 500 high school juniors and seniors. The primary goal aimed at opening up students to the value associated with pursuing an education in skilled trade.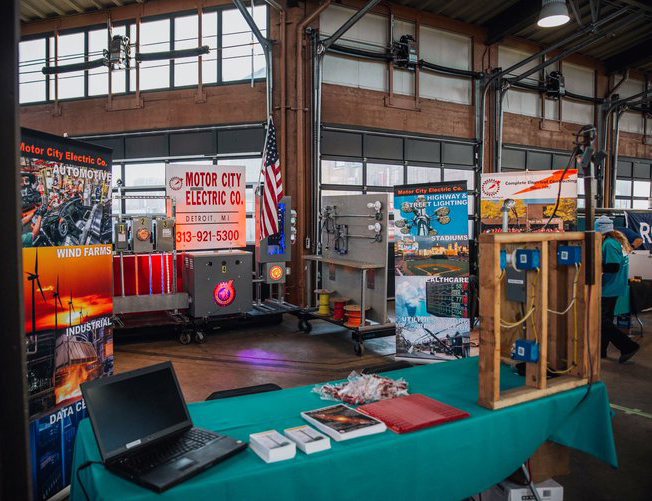 "The Sachse Construction Academy started as an idea to celebrate our 25th anniversary, it was supposed to be just a one time event. We said we'd invite a bunch of high school juniors and seniors in the city, bring a bunch of our trade partners, and we'll show them what it's like to be a skilled tradesman" said Todd Sachse, CEO and founder of Sachse Construction.
Starting off as a single event to celebrate the 25th anniversary of the founding of this business. Ultimately, the academy grew to something much larger due to it's popularity.
"Above all we received incredible feedback from the students and the teachers, they left asking when its happening again next year…" Sachse Says.
Because of all of the vendors for this event, students receive an inside look to what these industries are like. As a result of the increased necessity for a skilled labor workforce, companies at this event are hoping to recruit a future generation of skilled professionals. 
Similarly, schools in the area see this as an opportunity to help their students weigh all the necessary options associated with graduating. Selecting a career path can be tricky at a young age. Likewise, taking time to compare opportunities increases the likelihood of deciding on a path before entering college. 
Event Benefits:
As a result the afternoon presented students with the opportunity to learn about a wide range of skilled trades, from operating heavy machinery, to painting, to the basics of working as an electrician, students were offered hands-on opportunities that allowed them to try out many of the tasks they could potentially make a career out of after graduation.
"The purpose is really quite obvious, we want to introduce men and women to an opportunity. The goal is for people to walk out of the event feeling inspired. Saying they are interested in becoming an iron worker or a carpenter, that's all that counts."
Most noteworthy, Sachse stressed the importance of education in a skilled trade. He stated that it presents individuals with a lifetime of opportunities.
Learning a skilled trade provides a lifetime of useful knowledge and a set of useful skills.