The Sachse Construction Academy returned to Eastern Market on Wednesday, October 23, 2019, for its fourth annual exhibition aimed at promoting skilled trade opportunities for Detroit high school students. And, once again, Motor City Electric Co. participated in the afternoon event, which had over 500 juniors and seniors attend and was aimed at opening up more students to the value that comes from pursuing a skilled trade.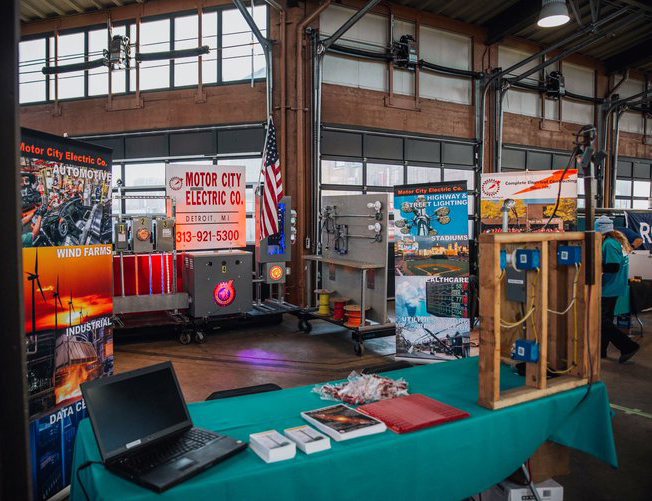 "The Sachse Construction Academy started as an idea to celebrate our 25th anniversary, it was supposed to be just a one day, a one-time thing, and we said we'd invite a bunch of high school juniors and seniors in the city, bring a bunch of our trade partners, and we'll show them what it's like to be a skilled tradesman" said Todd Sachse, CEO and founder of Sachse Construction. Originally starting off as a one-time event to celebrate the 25th anniversary of the founding of his business, the academy grew to something much larger. "We got incredible feedback from the students and the teachers, they left asking when its happening again next year. We went 'Oh, I guess we have to do it again next year,' and now, it's been four years."
The afternoon presented students with the opportunity to learn about a wide range of skilled trades, from operating heavy machinery, to painting, to the basics of working as an electrician, students were offered hands-on opportunities that allowed them to try out many of the tasks they could one day make a career out of.
"It's a great experience, it gets better every year, and I'd say we get better at putting it on every year," said Sachse. "The purpose of it is really quite obvious, we want to introduce these young men and women to an opportunity. If two people walk out of here today, out of the five hundred that attended, and say they'd love to be an ironworker or a carpenter, then it's a success, that's all that counts."
Sachse stressed the importance of learning a skilled trade, citing that it presents one with a lifetime of opportunities, and the ability to take up work just about anywhere in the U.S..
"It is a lifelong skill, something that, in my opinion, is transferable," he stated. "Whether you're in Detroit, Kentucky, Miami, or New York, it's a skill you can take anywhere. It's a forever skill, and people don't realize how much money they make. The average carpenter, electrician, or plumber, can make more money than the average architect."