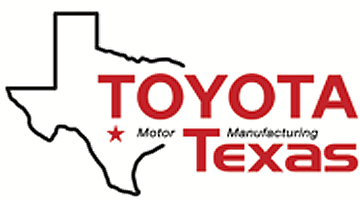 Every Toyota pickup truck sold in the United States in now manufactured at the San Antonio Truck Assembly Plant in Texas. The 2.2 million square foot facility began production in 2006 on a 2,000-acre site on the far south side of the city. The first Toyota Tundra rolled off the line in November.
When Toyota broke ground at the new plant site in Fall 2003, the plant was intended as a simple assembly plant. It evolved into a full automotive production site including 31 on-site suppliers that ship directly to the factory. In addition to 2,900 Toyota workers the on-site suppliers employ another 3,150 – over 6,000 jobs!
More than 20 electrical contracts completed  for Toyota Texas

Motor City Electric Co. and its local Texas partner, Big State Electric Co., completed more than 20 electrical contracts associated with the construction of the plant. This included the electrical power installations for the plastics plant, the Kautex (fuel tank) plant, Compact Modular Architecture (CMA) building, Rockwell facility, and Futaba Industrial Texas (FIT) stamping and welding assembly plant. MCE and Big State also performed electrical equipment installations for the frame and fuel fill lines, the FIT weld and bumper assembly shops, the paint shop ovens, Kone cranes, conveyors, temperature controls, instrument panel lines, audit lab, quality control equipment, and site security. Our two companies also performed the electrical work for the OS&S Infrastructure Project.
As part of the work sharing collaboration on the projects, Motor City Electric Co. provided estimating, project management, supervision, engineering, and major material procurement for all of the noted projects. Big State Electric Co. provided field labor, supervision, tools, equipment, and miscellaneous materials.
Toyota Texas offers individuals, groups, and schools free tours. What you'll find there is one of the world's most advanced automotive manufacturing facilities – what former Mayor Henry Cisneros calls, "Perhaps the most important economic accomplishment and development in San Antonio in the last 50 years."