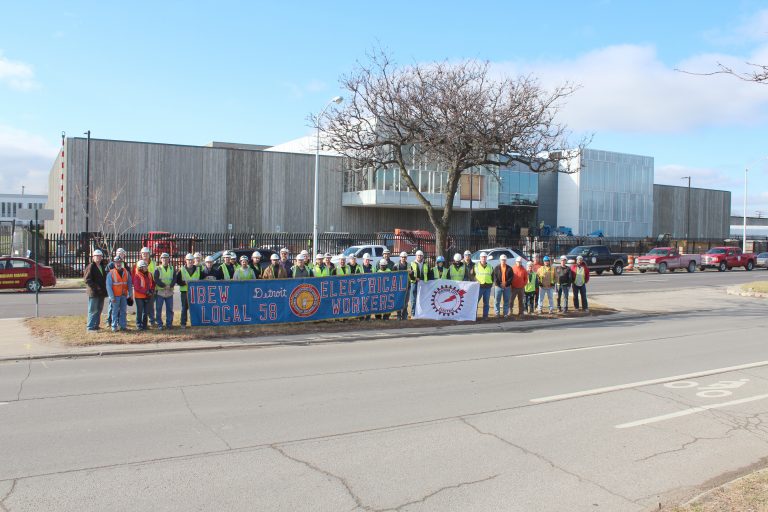 Construction of the Quicken Loans Technology Center and office complex in Detroit's Corktown District required experienced, knowledgeable contractors who could deliver and install sophisticated equipment and systems. This state-of-the-art, 66,000 square foot office complex was the first Dan Gilbert development outside of downtown's central business district.
Knowing Motor City Electric Co. possessed the required experience and knowledge, Turner Construction selected us as the project's electrical contractor. Under MCE's direction, a complete BIM model was developed to coordinate the electrical, mechanical, fire protection, and architectural features.
The modern cement and glass office complex features two 10,000‑square-foot server rooms, along with training, office, and support space. The new facility boasts 1.4 megawatts of redundant available power, an energy efficient design, and a state-of-the-art air conditioning system to cool its server rooms. The largest conference room seats 30 and has a view of downtown Detroit. It also includes:
Power distribution
13.2K primary generators
UPS units with flywheel technology
Lighting controls
Fire alarm system
Comprehensive security system
CCTV system &
Voice systems
The uninterruptible power supply units are the first 750kva UPS units to be used in the U.S. and incorporates 2.5MW generators as backup. The technology center employs indirect air conditioning units that use large heat wheels to cool the servers without bringing outside air into the room or using water to cool the facility. The data security system includes biometric readers and facial scanners.
Special features of the office complex include:
A breakroom with five nap bunkers or sleeping pods
Slushy and cappuccino machines
Showers
Rotating and moveable walls in the main office space
A decorative wall made from recycled skateboards
A multicolor LED light staircase
A Ford Mustang that was converted into a pool table
A snow melt system in the rear utility yard
Half of the facility is occupied by Quicken Loans staff. The other half, including one of the server rooms, is available for lease.