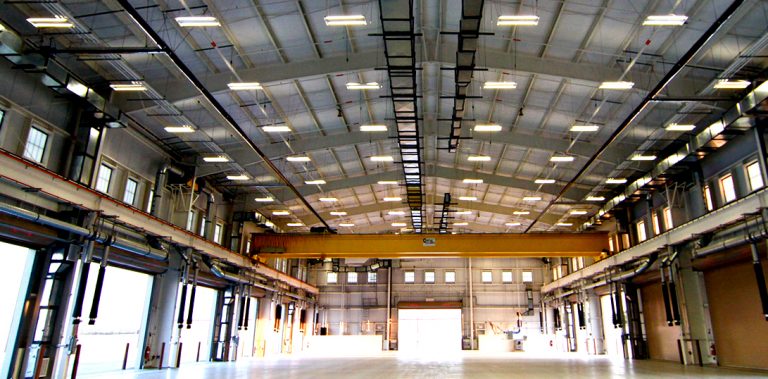 As invaluable as our front-line military personnel are, the resources that support them as equally important. Motor City Electric Co. was a key member of a design/build team assembled by construction manager Walbridge Aldinger for construction of Combat Aviation Brigade (CAB) Tactical Equipment Maintenance Facilities (TEMFs) at key military installations in the U.S. Southwest. The facilities at Fort Bliss in El Paso, Texas, and Fort Sill in Oklahoma are occupied by personnel returning from combat in Iraq and Afghanistan.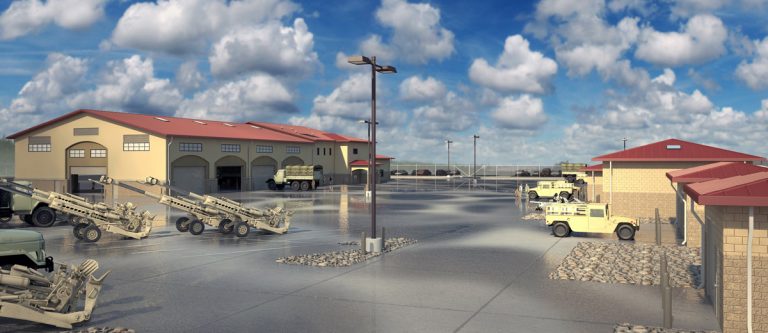 Army logisticians were charged with reengineering maintenance and repair structures to support 21st century missions. In the past, Army policies focused on facilities that supported specific functions. To avoid future logistics gaps, the Army has fundamentally redesigned and amplified the most modern and flexible facility design used today, the Tactical Equipment Maintenance Facility (TEMF). This redesign uses functional applications adopted from civilian environments.
A Second TEMF Assignment
After completing the Fort Bliss, Texas TEMF project, the Motor City Electric Co./Walbridge Aldinger team was awarded another three TEMFs at Fort Sill in Oklahoma.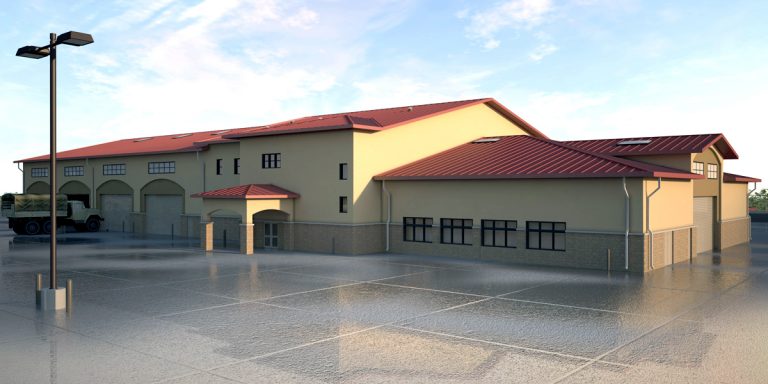 Motor City Electric Co. worked with construction manager Walbridge and design team partner Michael Baker, Jr., Inc. to provided design/build services for three heavy vehicle Tactical Equipment Maintenance Facilities (TEMFs) complete with equipment, parts storage, and administrative offices for the 31st ADA Brigade at Fort Sill, Oklahoma.
The small-sized, 18,000 sq. ft. TEMF is used for the Headquarters and Headquarters Battalion. The medium-sized, 35,200 sq. ft. TEMF is utilized by the Air and Missile Defense (AMD) Battalion. The large-sized, 57,031 sq. ft. TEMF is used by the AMD Composite Battalion.
TEMF Electrical Design /Build
The electrical component of this project included the design and construction of:
Electrical Power Service including electrical equipment room with 3-phase, 200-ampere breakers
Electrical and Telecommunications Systems
Exterior Electrical Distribution System, including:

Parking Pad and Power Connections
Exterior Lighting – pole mounted and building-mounted controlled by a photosensor or astronomical time clock
Perimeter Security Lighting – controlled by a photosensor with manual override
Lightning Protection System & Transient Voltage Surge Protection

Interior Electrical and Telecommunications, including:

Electrical power outlets for special power for workbench locations in shops and maintenance areas.
Lighting and lighting controls in Office, Training Room, and Conference Room with dimmable circuit. Lighting and lighting controls in Repair and Maintenance Areas.
Electric power for GFGI portable hydraulic lift in each pair of repair areas

Communications and Audio/Video Systems

Telecommunications System including Secret Internet Protocol Router Network (SIPRNet) with Cat 6 cabling for all voice and data connections unless length of run warrants need for multimode fiber optic cable. Specific quantities and spacing for data and voice connection outlets in each work area, Training Room, Each repair area workstation, administration and shop control areas, each copier location, wall mounted GFGI phones in mechanical, electrical, vaults, telecommunications room, and corridors, and at primary entrances of controlled access facilities.
Cable Television (CATV) system consisting of cabling, pathways, and outlets with a minimum of two outlets each in the Break, Training, Conference, Admin, and Shop Control Rooms
Duplex receptacle adjacent to each duplex voice/data and CATV outlet at each workstation
GFGI projector power receptacle and conduit for signal wiring

Life Safety

Paging Systems for the repair areas and maintenance areas zoned for multiple bay operation and shall have input from the telephone system.
Security Infrastructure to support GFGI equipment including cameras, door alarms, and motion sensors.
Intrusion Detection and Security Systems for secure and restricted areas including the arms vault, COMSEC vault, and SIPRNet room with dedicated power circuits, telecommunications connections, and raceways and signal wiring for user installed devices.
Access Control System. The access control system shall consist of proximity sensors throughout the facility with varying levels of security.
Mass Notification System (MNS)
Fire alarm and detection system addressable and fully compatible with and integrated with the local installation wide central monitoring system

Grounding
Over-voltage and surge protection at the input power of all panels