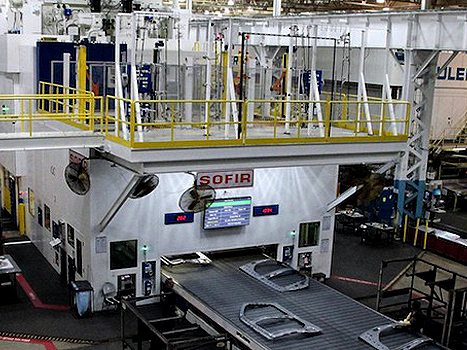 IICC selected Motor City Electric Co. to perform the electrical work for installation of two new 180-inch  Komatsu  high-speed servo tandem  presses  and  one  new  servo  progressive press at the FCA Sterling Stamping Plant (SSP). These  presses  represent  the  latest  high-speed  servo technology, and  together  increase  daily  stamping  production by nearly 75,000  pieces or 20 million stampings a year. SSP currently produces 62 million stampings annually.
The Servo drive provides 100 percent  programmable control and movement of  the  ram  speed  at any  position in the press stroke unlike traditional press operation at a fixed  speed.  The  state-of-the-art  servo  presses  are  also much quieter than their mechanical and hydraulic counterparts and use one-­‐third less energy.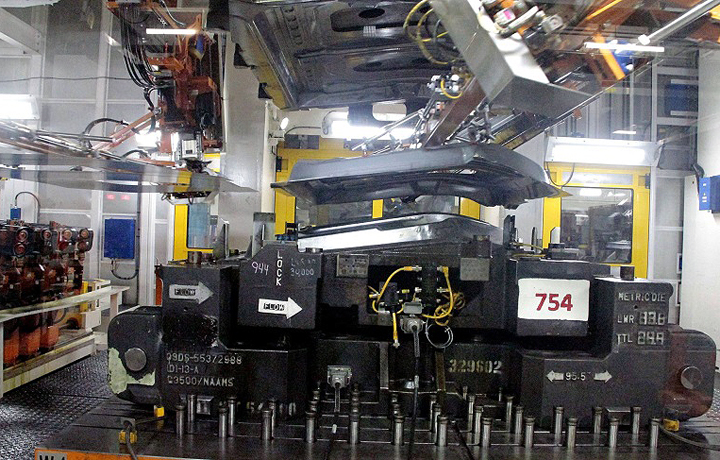 The tandem press consists of multiple presses in line in series under which a single die is positioned in each press to perform an incremental function to make the stamped part. A progressive press, also known as a die tryout press, is a single press in which a single die with an unlimited number of operations produces parts directly from a single coil of steel.
SSP operates 17 lines of major stamping presses, three progressive presses and three blankers*, for a total of 89 presses. In addition there are more than 720 robots in the plant. The facility currently processes more than 500,000 tons of steel and 14,000 tons of aluminum annually. The new presses are expected to began production near the end of 2015 and reached full volume in the first half of 2016.
Sterling Stamping employs nearly 2,300 employees s recognized as the largest stamping plant in the world, and produces stampings and assemblies including hoods, roofs, liftgates, side apertures, fenders, and floor pans. These parts are used in the assembly of the Dodge Grand Caravan, Dart, and Durango; the Chrysler 200 and Town & Country; the Jeep Grand Cherokee, Cherokee, Compass, and Patriot; and the Ram Truck.
* A blanker is a coil fed press that shears or trims aluminum or steel coil into individual blanks (rectangular cutoffs or special shapes) that are stacked and used in forming stampings run in the press lines.