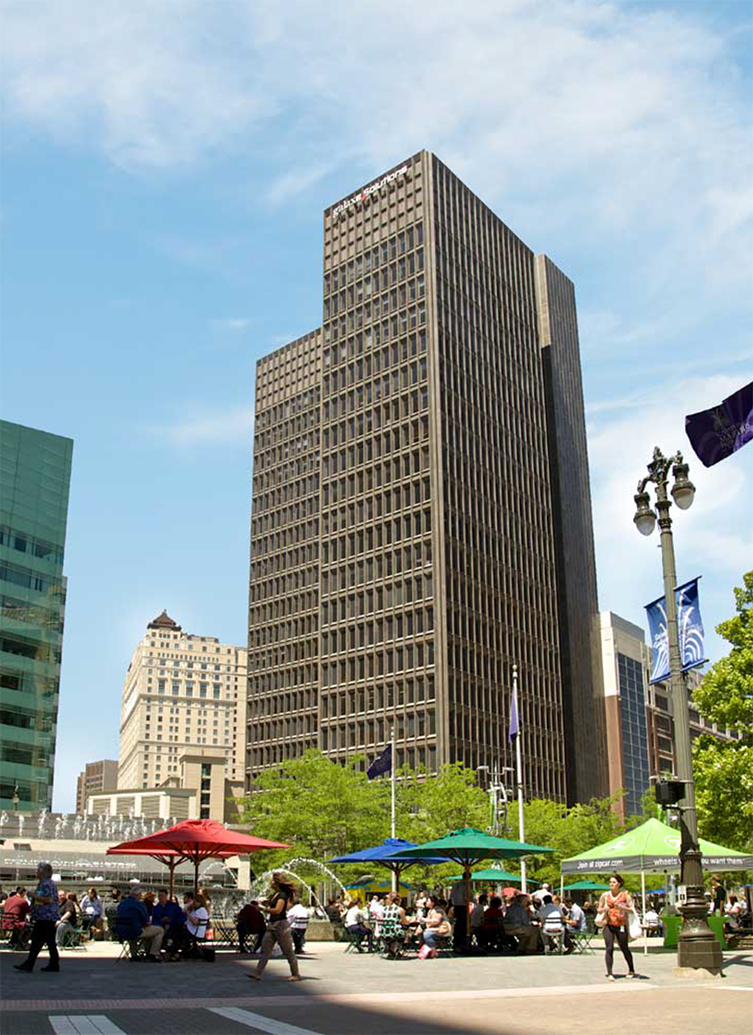 Dan Gilbert's Rock Ventures purchased the historic 1001 Woodward Ave. building in 2013 and has invested in electrical renovation. Motor City Electric Co. was selected by construction manager Sachse for the renovation of Floors 10, 16, and 17 in this landmark structure. Work began in 2016 and was completed in March 2018. MCE's Shane Logan was Project Manager for the roughly $2.3 million in electrical renovations.
Located at the corner of Woodward Avenue and Michigan Avenue, the 319,686 square foot high‑rise overlooks Campus Martius Park. As one of the hubs of activity in Detroit's revitalized downtown this buildings location is historic. Historically known as the First Federal Building for its former primary occupant, First Federal Savings and Loan. The building was designed in the International Style by architect Smith, Hinchman & Grylls, and added to a list of Historic Places in 2013.
After the electrical renovation was completed the space was opened to offices that now occupy most of the space. With retail space on the ground floor including restaurants Freshii, and Bellacino's. Quicken Loans' mortgage servicing group occupies the top four floors, and GalaxE Solutions systems leases 40,000 square feet in the building. The WeWork co-working space occupies another three floors. Other tenants include SEMCOG, Detroit Crime Commission, and Ultimate Parking Management. An adjacent 12-story parking deck serves employees and visitors and the Q-LINE streetcar stops directly in front of the building. Motor City Electric Co., is also responsible for the electrical implementation of the Q-LINE in Detroit. Find more about the Q-LINE project here.
Interested in what else MCE is capable of? Find more of our past projects here.