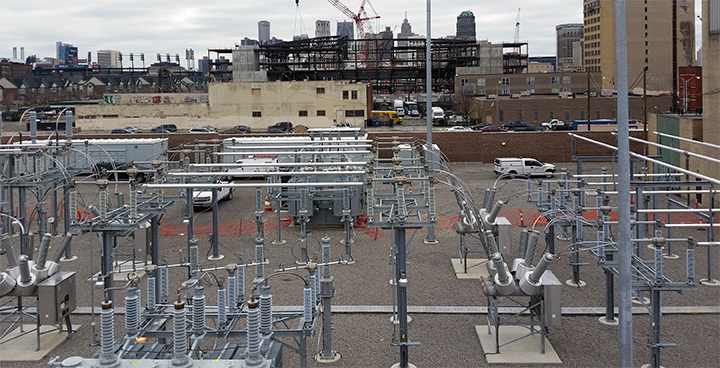 Motor City Electric Utilities Co. (MCEU) completed a unique substation project for DTE Energy. Temple Substation, located at Temple and Park, two blocks north of the new Little Caesars Arena in District Detroit, is the first Engineering-Procurement-Construction (EPC) substation project undertaken by DTE. Located alongside and around the existing DTE Charlotte Substation, the Temple Substation provides power and resources for the new Little Caesars Arena and surrounding enterprises.
The 13.2kV to 120kV Temple Substation is classified as a Type S (special) and it is the first of its kind for DTE. It consists of three main power transformers, two power distribution centers (PDCs), four metal enclosed capacitor banks, nine reactors, five high voltage breakers, and multiple high voltage and low voltage disconnect switches. The three main power transformers act in parallel and will be more reliable than other utility substations of this size.
The project began with the planning and engineering processes provided by Black & Veatch Corporation, the Engineer of Record for the project. B&V has designed several substations for DTE Energy and was well acquainted with the specifications and requirements for the project.
Motor City Electric Utilities is also responsible for the procurement portion of the project. After specifications were developed by B&V, MCEU contacted various suppliers and chose the equipment for the project based on qualifications and availability. Supplier drawings were then provided to B&V to complete the engineering portion of the project while MCEU tracked the equipment to ensure delivery dates were met and the project remained on schedule.
At this point MCEU began the construction process. MCEU performed the vast majority of the project work though the civil infrastructure and major electrical testing was subcontracted to a qualified contractor. Upon completion, MCEU commissioned the project and completed a full site cleanup and restoration prior to demobilization.
This $11.5 million project was completed and commissioned in just nine months – begun in June 2015 until it was commissioned on March 29, 2016.