Michelle Jackson is passionate about Detroit's revitalization. And about having the opportunity to work as an electrician's apprentice on one of the biggest construction projects underway in Detroit in many years—Little Caesars Arena.
After passing a 10-week, pre-apprenticeship program, Jackson landed at the arena with Motor City Electric Co., which has been located in Detroit for more than 65 years.
Here, she's learning the ropes from other more-experienced electricians. It's through the apprenticing process that Jackson will learn everything there is to know about electrical work and eventually she'll stand on her own as a journeyman electrician.
"I know everyone is not college-bound so to have programs that you can do hands on and still have a career means a lot to me," said Jackson. "It's a great experience."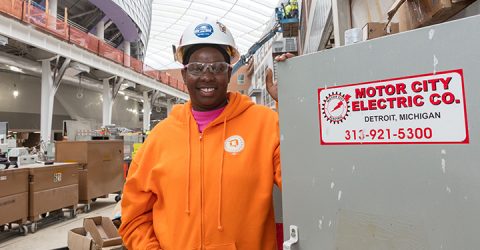 Motor City Electric Co. is making a huge impact on their hometown, not only helping young apprentices find careers but leading electrical work on projects throughout The District Detroit including Little Caesars Arena and the Little Caesars World Headquarters campus expansion.
By maintaining an apprenticeship program, Motor City Electric Co. is helping to foster the next generation of skilled electricians in Detroit—also contributing to the city's economy and workforce pipeline and making a positive difference in Detroiters' lives.
Motor City Electric Co. is one of the more than 70 Detroit-based companies that have received contracts to work on The District Detroit and fulfill its "Michigan Made, Detroit Built" pledge. Between the soon-to-open Little Caesars Arena and Little Caesars World Headquarters campus expansion, the company will leave a significant footprint on the city they call home.
About The District Detroit
The District Detroit is one of the largest sports and entertainment developments in the country. Located in the heart of Detroit, this 50-block, mixed-use development led by the Ilitch organization unites eight world-class theaters, five neighborhoods and three professional sports venues in one vibrant, walkable destination for people who want to live, work and play in an exciting urban environment. Home to the Detroit Tigers, Detroit Red Wings, Detroit Pistons and Detroit Lions — The District Detroit represents the greatest density of professional sports teams in one downtown core in the country.
Originally posted at www.districtdetroit.com/news/apprentice-finds-a-career-at-little-caesars-arena, August 1, 2017