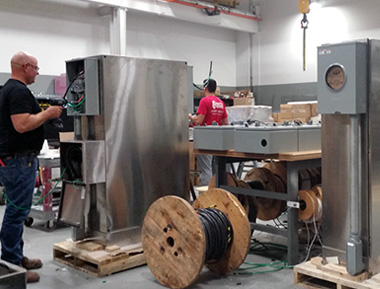 Motor City Electric Co. has been in Detroit for a long time. Since it formed in 1952, the company has seen several of the city's comebacks and renaissances start and flounder. Despite those experiences, the commercial electrical company is more optimistic than ever before about growth in its hometown.
The firm, which is headquartered near City Airport, has secured work on a growing number of large projects throughout Detroit that have allowed it to hire 200-300 union electricians and another 25 office workers, bringing its administrative staff to a total of 145 people.
"It just seems like things are starting to click," says Thomas McGrail, executive vice president of Motor City Electric Co.
The company has scored work with the Detroit Public Lighting Authority's street lamp project. It has also done lighting work at local Chrysler plants and the Detroit Medical Center. It's biggest score, however, is with Rock Ventures, the umbrella entity for Dan Gilbert's business and real estate portfolio.
"We do numerous projects for them and their remodels," McGrail says.
Motor City Electric Co.'s work isn't limited to Detroit. The firm has subsidiaries across the U.S. in seven states as far west as Nevada and as far south as Florida. It also has a subsidiary in Ontario. McGrail expects his firm's workload to grow   both here and across the country.
"We think the construction industry will continue to grow over the next year or two or three," McGrail says.
Source: Thomas McGrail, executive vice president of Motor City Electric Co.
Writer: Jon Zemke
Diversity of projects leads to significant growth for Motor City Electric Co. – Model D